Mirna Bamieh started Palestine Hosting Society (PHS) in 2017 as a live art project that explores traditional food culture in Palestine, especially those that are on the verge of disappearing. Performed as a dinner featuring dishes carefully prepared by the artist herself, each iteration is a result of meticulous research that looks into relations between the food and its ingredients and effects of occupation on it. Bamieh's performative dinners ask, in a region riddled with years of political conflict, how does food become a way to explore the challenges of people's everyday experiences?
Talking about the beginnings of Palestine Hosting Society, Bamieh says, "In my years of going around different regions in Palestine and through my research I realized that politics had exhausted the medium through which people could talk to each other. And that's when it occurred to me that there was a need for a platform through which these conversations could be reinitiated. And there was no better way than food for this. So the idea was to bring dinner back to the table and that's how the Palestine Hosting Society was created."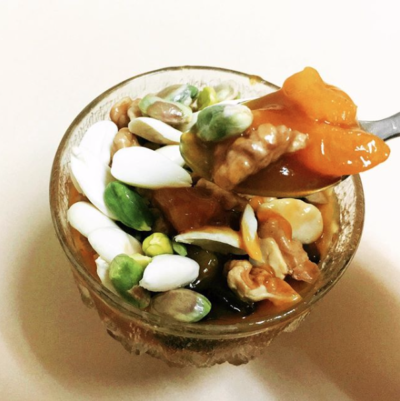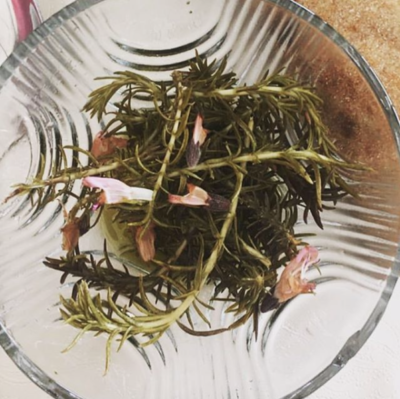 (L to R) Khushaf or Apricot leather pudding. Pickled Wild Thyme. Image courtesy @palestinehostingsociety
In November Bamieh will be bringing a dinner to the US for the first time, for the Live Arts Bard Biennial. She explains how the research for this iteration, titled Menu of Dis/appearance, evolved from interviewing the Palestinian diaspora in the New York region. Even with earlier iterations, it is the research that has led to the thematic of each dinner. At the very beginning, the performance was centered around interactions with five families from Palestine, who responded to an open call and shared the recipes that had been in the family. And eventually, the dinner was held at these five different households in an intimate setting where participants heard the stories the hosts had to share. Starting with as few as thirteen people at a dinner, Bamieh's performances have expanded in their scope and scale. Cooking for sixty individuals per dinner (often partnerships with local chefs), Bamieh is currently working on projects where she focuses on a particular ingredient, form of cooking or region. Her most recent performance titled Fermentation Station: The Table, an interaction food installation, as a part of Everyday Forms of Resistance assembly, Ujazdowsku Castle for Contemporary art, Warsaw, as the title suggests, focusses on the process of fermentation as a central aspect of Palestinian cooking.
The attention to detail within each of these performances bears testament to the extensive research that Bamieh undertakes. Held mostly in Arabic, the dinner is accompanied by the artist's narration of the story behind each ingredient and its links to people's experiences of occupation and conflict. The 60-person dinner table is arranged along one or two long tables ensuring that the experience remains a rather familial one, foregrounding the idea of hospitality that Bamieh thinks a lot about with her work. On the list of recommendations for the Festival's syllabus is Thomas Claviez's book The Conditions of Hospitality that addresses this multifaceted subject through various academic disciplines, such as philosophy, politics, anthropology, aesthetics, ethics, and translation studies. "For me it is an accumulation of efforts. It is essential for me to understand the work of various thinkers on these larger questions of power relations between the host and guest and how that connects to people's lived experiences. Yes, it begins with the individual interactions with people and sharing their stories and recipes but it is through the concept of hospitality that I arrived at the idea for this project. I see it as a form of empowerment to revive the role of hosting amongst Palestinians." says Bamieh.
— Sukanya